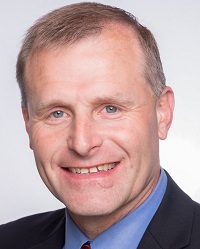 With over 650 NCPA members, we have many great stories to tell. One such story is that of long-time member, Dr. Travis Tessendorf from Columbus, Nebraska, who has been in practice for 24 years. His passion for the profession and serving his community is remarkable.
Dr. Tessendorf has worked collaboratively with other health care professionals at the Columbus Community Hospital for over 15 years. This integrative approach has made a difference in the lives of patients and the community he serves. This is a continued long-term goal of the NCPA, and his story is a great benchmark of progress. Read more…
Q: How long have you been a practicing chiropractor? Why did you become a chiropractor? 
I have been in private practice for 24 years in Columbus, Nebraska. When I was a freshman in college, I injured my shoulder playing baseball. My mom encouraged me to come home and see Dr. Craig Nelson, a chiropractor in my hometown. Although I was very skeptical, I visited his office, and he adjusted my neck and elbow. Much to my surprise, a few weeks after that treatment, my shoulder pain went away. As a catcher, it is remarkable that I played three more years of baseball with no pain in either my shoulder or my elbow. This experience fueled my passion for chiropractic.  
Q: What do you like most about being a chiropractor?
I take pride in listening to and providing an accurate diagnosis to patients.  Another area is collaborating with other health professionals in my community to best serve the needs of my patients.
Q: How has the profession changed since you started practicing? 
The profession has become much more business oriented. The downside is the oversight and amount of paperwork required by insurance carriers which has drastically increased over the years. The result is that we end up spending less time with the patient and more time doing paperwork. The positive change, however, is that there is more collaboration between chiropractors and other medical professionals. Working together increases the outcomes for patients.
Q: Tell us about how you became a provider in the Columbus Community Hospital. What do you do for them? 
I applied for and was granted hospital privileges at Columbus Community Hospital (CCH) approximately 15 years ago. This allows me to directly access the medical records of my patients and grants me the ability to order imaging and laboratory tests. I greatly value my relationship with the Columbus Community Hospital and the medical providers in the area. It is gratifying to work together for the good of our patients.  I am also a contracted provider for the CCH Occupational Health Department. I provide DOT physical exams and also assist with occupational employment exams as needed.
Q: Do you do any other chiropractic work in your community?  
I have served as one of the team physicians for Lakeview High School football program for over 22 years. This was especially exciting for me this year because my son is a senior and the team won its first ever state championship. Columbus Community Hospital provides athletic trainers for several area schools and our local community college. I collaborate closely with the athletic trainers to improve the health and wellness of our area athletes.
Q: What are your thoughts on how other chiropractors better collaborate with other health professionals to better patient outcomes? 
It's imperative that chiropractors continue to work with all medical providers. My family is full of health care professionals. My brother is a cardiologist at Bryan Cardiology in Lincoln, and my other brother is a physical therapist in Fremont. I am very close with both of them, and we talk frequently about different medical issues that we encounter.
I have a very close friend who is a spine surgeon, one who is a physical therapist, one who is an athletic trainer, and one who is a family practice medical doctor. All of these professions provide care to patients in a different way that I can provide. My friendships with them, along with the relationships I have built with the many health care professionals in my 24 years of practice have made me a better chiropractor. The positive rapport we have built also has allowed them to become comfortable with chiropractic care, which allows for more transparency for patients.
Q: What do you think the profession or association will need out of members in the future?
Chiropractic care provides beneficial services to patients. My hope is for our association to continue to work with insurance payers to find a fair and equitable ways to treat patients. Provider parity is important.
Health care is constantly changing with new technology and procedures, and the continued integration in health care, where chiropractors and other health care professions work together, will be crucial and necessary for a patient's overall health and wellness.