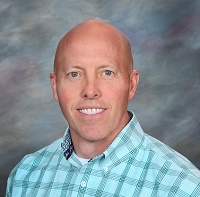 Athletes of all sports and activities utilize chiropractic care to keep them healthy and agile. Most of our 650 NCPA members treat athletes to help them perform at their best. Some provide treatments right on the sidelines or just outside of the ring at a variety of venues and sporting events.
One such member is Dr. Troy Wilson, who has been active in the rodeo circuit for over 18 years at the Oregon Trail Rodeo in Hastings. As one could imagine, bull riding can do a quite a number on the spine and central nervous system. Dr. Wilson shared with us how he got "lassoed" into the sport and how chiropractic benefits people of all ages, not just athletes. 
Q: Tell us about yourself. Have you always lived in Nebraska?
I am from Hastings, Nebraska. I graduated from Cleveland Chiropractic College in Kansas City in 1995. After graduation, I lived in Wichita, Kansas for three years, but after the birth of my second child, we moved back to be closer to my family in 1998.
Q: How long have you been a practicing chiropractor?
I have been practicing for over 27 years. I joined the association in 1998 when I moved back to Nebraska.
Q:  Why did you become a chiropractor?
I liked the fact that it was a natural approach to health. Prior to going to chiropractic college, I had never been treated by a chiropractor. I had a significant injury to my left thigh at the age of ten.  Due to this injury, I had a limp for thirteen years. After receiving my first adjustment, I walked out of the treatment room with a normal gait and no limp. This just helped to seal my beliefs in chiropractic. I've always been active with sports, but I noticed my performance had improved with regular adjustments.
Q:  What do you like most about being a chiropractor?
The quick results that patients are looking for. Most have tried many types of treatments and are tired of using medication. It is rewarding to see quality of life restored in patients and families. Even patients who have had multiple surgeries can benefit from regular chiropractic care.
Q:  If you were to have to explain the benefits of chiropractic care and its effectiveness, what would you say?
Chiropractic is natural, safe, gentle, and effective.  There are no side effects, other than feeling better. It's been around in the USA for 127 years and it is also for everyone! I treat all ages, from infants just days old to 100 years old.
Chiropractic care improves balance, biomechanics, performance, nervous system function, and overall well-being. Especially for athletes. Most major, college and Olympic athletes utilize regular chiropractic care.
Q:  Are you involved in your community in any way as a chiropractor?  If so, how many years have you been involved?
 I have served on a few local boards for over 12 years.  One of my favorite local events that I help with is the Oregon Trail Rodeo. It has been a privilege to go and treat the cowboys and cowgirls every year for the last 18 years.  I got started one year during the rodeo when they called me asking if I would provide care.
There may be 30-50 participants at these rodeo events each night. Those that receive care feel that they are balanced and more focused after a treatment, which they say equates to overall a better performance. Needless to say, to help contribute to that is a great honor!
Q:  How has the profession changed since you started practicing?
Chiropractic offers care that no other profession provides, and it has become more accepted by the public as well as other health professions. This takes building relationships and removing biases.
I've worked hard to build relationships in my community. I get referrals from massage therapists, physical therapists, medical doctors, neurologists, neurosurgeons, as well as existing patients. I also refer to other professionals for assistance. As a doctor, it is about providing the best care for patients.